Displaying items by tag: shopping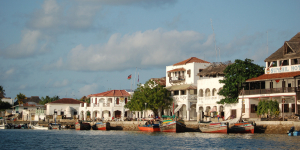 Lamu Old Town is the oldest and best-preserved Swahili settlement in East Africa, retaining its traditional functions.

Built in coral stone and mangrove timber, the town is characterized by the simplicity of structural forms enriched by such features as inner courtyards, verandas, and elaborately carved wooden doors.
Lamu has hosted major Muslim religious festivals since the 19th century, and has become a significant centre for the study of Islamic and Swahili cultures.
 
The town of Lamu began life as a 14th century Swahili settlement, but the island has seen many visitors and influences, including Portuguese explorers, Turkish traders and the Omani Arabs.
All left their mark, but Lamu developed its own particular culture, which has ultimately endured.
Lamu's narrow streets remain unchanged, and in the markets and squares around the fort life moves at the same pace as it always has.
There are no vehicles on this island, and the donkey and the dhow remain the dominant form of transport.
The people of Lamu are great believers in tradition and custom, and this is a strong society built on a respect for the past.
For the traveller, Lamu is a hypnotically exotic experience, made even more enjoyable by the relaxed and welcoming attitudes of the locals.